TCF Sales Highlights European Confectionery Suppliers
13 November 2019
TCF Sales would like to highlight our European confectionery suppliers, starting with Dedy Gmbh.
We initially began distributing the popular all metal Dedy guitar cutter, not realizing other suppliers were distributing a knock-off guitar cutter with a plastic base. We soon realized that for the same money or very similar, the all metal Dedy guitar will hold its base spacing tolerances unlike plastic bases that results in a dependable long term piece of confectionery production equipment. Plus,confectioners never have to worry about shavings of plastic getting into their food product! --This product was our first introduction to the Dedy family of products and their fine German craftsmanship, and TCF Sales is proud to be their largest U.S. distributor for this product.
Founded in 1946, Dedy continues to be a family run enterprise specializing in confecionery and chocolate making machines for small craft companies as well as large-scale ones. Their products are backed by decades of know-how and experience and they continue to evolve and improve. Currently in their 3rd generation, Dedy GmbH is operated by Eva and her husband Rainer who manage their team of sales and manufacturing associates. They specialize in the production of chocolate melting and tempering kettles, moulding machines, chocolate enrobers with or without cooling tunnels, praline and cookie dough guitar cutters, and small tools of the trade. Their enrobers have belt widths from 120mm up to 420mm that are movable and suitable for all enrobing jobs, and include short or longer take off tables with paper, special take off tables with a photo eye for stop / start batch working, or cooling tunnels for a complete processing line.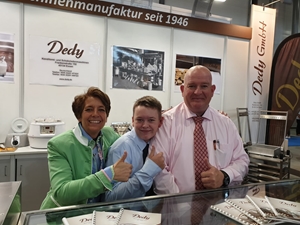 TCF Sales is pleased to distriubte Dedy's chocolate and confectionery equipment and we are confident that our Customers will receive exceptional quality. Contact us at TCF Sales to learn more about Dedy and their products. We will be happy to help you!
TCF Sales
"The Confectioner's Friend"
www.tcfsales.com
512-201-4443 or 877-777-6982 Toll Free
Comments