PreGel at TCF Sales
4 September 2020
Thank you to the PreGel team for recently making the trek south to TCF Sales to demonstrate how easy it is to make delicious gelato using their ingredients in the Bravo line of gelato and ice cream machines that we distribute.
PreGel is an international ingredients company headquartered in Reggio Emilia, Italy that makes it possible for customers to obtain natural ingredients needed to produce products in a convenient and cost effective form. PreGel America was established in 2002 with a main office in Concord, NC and product labs and training facilities in Grapevine, TX, Ft. Lauderdale, FL and Elk Grove Village, IL.
Marcello Quieti, area sales consultant, and PreGel coporate pastry chef, Sean Pera, provided our sales team with a variety of ice cream / gelato / sorbet theory and advised us of three different types of PreGel ingredient methods or processes available to customers, from using a base product mixed with minimal ingredients that can be easily accomplished by un-skilled staff, to the use of base products that allow the customer to add additional flavors, pastes, etc., to using ingredients that accommodate both hot and cold processing.
We made three flavors of gelato, Oreo Vanilla, Strawberry and Pistachio. Each one had a distinct flavor and a smooth texture with varying degrees of firmness, and all were delicious!
Chef Sean also spoke about the importance of having a blast freezer to further stabilize gelato, ice cream and sorbetto products and to extend their shelf life from 2-3 days per pan to up to 3 weeks. We were pleased to learn that PreGel also has an inexpensive gelato machine sanitizer that comes in a convenient packet that is food safe and more importantly will not pit your freezer blades over time -- which is very important. We will look forward to ordering this product along with a variety of PreGel ingredients for demonstration in our in-house Bravo gelato / ice cream demo machine, and will look forward to the arrival of our new demo blast freezer.
Call us or click here to learn more about Bravo ice cream and gelato making machines or click here to learn more about PreGel ingredients.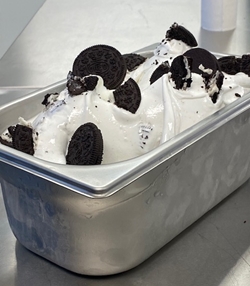 TCF Sales
"The Confectioner's Friend"
512-201-4443
www.tcfsales.com
Comments