Nansin Dollies - Superior Quality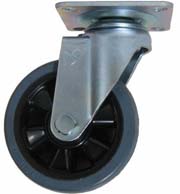 Nansin dollies are preferred over competitor dollies because they are well made, handle ample weight, are light weight, and glide across floors - very quietly.
Nansin dollies are ideal for most any business or home application. Goods can be moved with ease and without excess noise. Because of the extremely quiet operation, these dollies work well in clinics, hospitals, libraries, schools and other noise sensitive applications. Because of their easy movement, Nansin dollies are perfect for warehouses, rental companies, restaurants, hotels, and office buildings.
These are the features that set Nansin dollies apart from other dollies:
Holds heavy weight without damage; up to 330 lbs. for small platforms & 660 lbs. for large
Sturdy light weight construction
Steel foldable handle or built in brake
Optional foot brake
SilentMaster® Caster Technology:
Excellent maneuverability; Fully enclosed bearings
Superior rolling start resistance; Can move heavier loads with less effort
Very quiet movement; Ideal for all environments
Non-marking wheels
Contact us at TCF Sales at 512-201-4443 or 877-777-6982 to learn more about Nansin dollies, or order online at
www.tcfsales.com
.