Premier Tilting Grinder - Use and Cleaning Instructions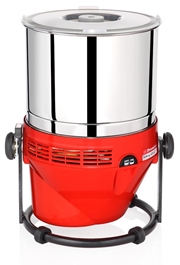 Making artisan chocolate and fresh delicious nut butters has never been easier with the Premier Tilting Chocolate Refiner, also referred to a grinder or melangeur. Instructions are provided herein to emphasize major operational points and get you started on the right foot but operators should thoroughly read the included manual prior to use which includes safety protocol, troubleshooting, instructions in more depth, and a few recipes.
PRIOR TO FIRST USE:
Clean the machine
Add 1 lb. of cocoa butter or a few cups of vegetable oil to the assembled unit and run for ~1 hour.

Wash stones and drum by hand with hot water, dish soap and a scrub brush.

Rinse thoroughly to eliminate all soap residues.
Allow to completely dry (can use hair dryer to speed up the process).
Wipe down the outside o the drum and body with a clean cloth.
READY TO REFINE:
Step by Step Instructions
Pre-heat your refiner stones.

Use a hair dry to direct heat to the stones or place your drum with stones inside into the oven.

Stones should be warmed as near to 140°F / 60°C as possible.

Use an infrared thermometer or touch to ensure they are warm.
If you use the oven method, set the temperature at 120°F - 140°F for 30 minutes. DO NOT ALLOW THE STONES TO REACH 170°F - UNDER ANY CIRCUMSTANCE. This will affect the structural integrity of the parts.

Be aware of important ingredient practices and warranty protocol.

Use regular white cane sugar.

DO NOT USE powdered sugar that contains cornstarch.
Using any sugar besides white cane sugar can be risky due to moisture content and can cause your chocolate to seize.
If you wish to experiment with other sugars, you will likely need to dehydrate them first.
NEVER use water or anything that contains water or alcohol. This includes unroated nuts or cocoa nibs, fresh or not fully dried fruits, or alcohol based extracts such as vanilla.
NOT RECOMMENDED: honey, syrup, Agave Nector, liquid milk or cream, condensed milk, evaporated milk.
Use of any liquid based ingredients that cause damage to the machine is not covered under warranty.


Turn your machine on to make chocolate, then SLOWLY add your nibs.

This is very important.




If the rollers begin to slow down, stop adding nibs and use your hair dryer to add heat directly into the bowl to help the nibs release cocoa butter and create fluidity.

Adding too many nibs at one time can cause the rollers to stop moving and cause damage to the machine.

After the machine has been running for an hour, then SLOWLY add your sugar(s).


Adding too much sugar at one time can cause the roller to stop moving and cause damage to the machine.

Visually check your mixture to ensure that it if flowing smoothly over and under the rollers like a liquid.


If it is not, use your dryer to warm the chocolate.
Add ingredients more slowly next time.


Keep a close eye on your machine for the first few hours to ensure that everything is running properly.

While the machine is built to run for days, it is never recommended to leave it running unattended for that long.
Particles take ~24 hrs. to break down in the refining process but the duration of refining is up to you and your taste preference.

Wen you are satisfied with your taste profile, turn off the machine and unplug it from the outlet.

Remove chocolate more easily using the "tilt" mechanism.


Loosen lock knob then press push cap down to tilt in the forward position only.

When finished, return the machine to its vertical position by pressing the push cap, then tighten the lock knob.
The beauty of making your own craft chocolate or nut butters is that you can experiment with ingredients, ratios of sugar content and techniques to create your own unique blend. So long as you follow the safety and ingredient warnings, feel free to be creative with your chocolate making and nut grinding.
1. Do not dump roasted nibs and sugar together in the drum at the same time. Ingredients may become "packed down" and the refiner will not be able to properly mix and refine ingredients until cocoa butter is released from the nibs. -In the event that you neglected our instructions, try removing a large portion of the ingredients then apply heat using a dryer to help the nibs release their cocoa butter faster, then SLOWLY add your ingredients. Ideally, sugar or other ingredients should only be added to your nibs after they have processed for approximately 1 hour.
2. If your mixture is crumbly or too thick, add some cocoa butter or oil to your mixture. It is likely that you also added too much sugar. You may need to use the dryer again.

3. Cocoa nibs to sugar ratios should be dependent upon the richness and tartness of the chocolate that you wish to produce. For instance, if you want a 70% cacao product, you would use 70% nibs and 30% sugar and/or 30% sugar and other ingredients. If you prefer a 60% cacao product, use 60% nibs and 40% sugar and/or sugar and other ingredients.

TCF Sales
"The Confectioner's Friend"
Ph: 512-201-4443 or Toll Free 877-777-6982