Advantages of KeyChoc AX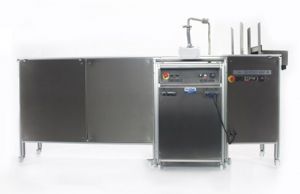 Prior to being made available for sale, KeyChoc chocolate melters and tempering machines were in the development stage for over 2 years and in the testing phase for over 1 year. Feedback continues to be overwhelmingly positive and many customers are coming back to order a second or multiple machines for the reasons noted below.
Advantages of KeyChoc Chocolate Melters and Tempering Machines:
Tank capacity will work from 12Kg to 60Kg

No change in chocolate flow rate and no air intake all the way down to the bottom of the tank

Full touch screen control

Capable of making timed deposits up to 999 deposits

No need to remove any panels or open the machine for cleaning

Chocolate pipe can be rotated 360 degrees for pumping to other machines

Compatible with all KeyChoc attachments, including Automatic Mould Line (as shown)

Other companies make 12, 25, 30, 50 and 60 Kg machines. KeyChoc will do any of these quantities.
TCF Sales
is pleased to distribute the KeyChoc line of equipment.
Give us a call at 512-201-4443 to learn more about the various models and their applications and to discuss your requirements.