How to Change Wire Mesh Enrobing Belt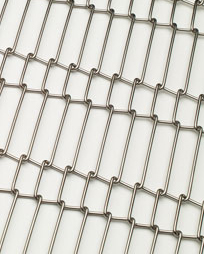 Changing a wire mesh enrobing belt for an enrobing machine can be complicated if you try to "wing it" but these video
instructions
are very helpful. Proper tools and training is required for successful long term modification. Small hands are helpful but not a necessity.
WHY DO ENROBING BELTS BREAK?
Wire mesh enrobing belts used for chocolate enrobing can stretch or break under a variety of situations. New belts must be installed correctly with the loop edges curving back and away from the direction of belt travel. If your belt is installed backwards, loops will catch and not properly glide. If your enrobing belt has a smooth side, it should be installed facing up, again with the loop edges curving back and away from the direction of belt travel.
Splicing or fixing a wire mesh enrobing belt is a cost effective solution but 90% of production breakages occur at the splice because it was done in haste and incorrectly. Use proper tools to remove and install new wires with equal spacing and without distortion, and ensure that the wire belt engages with the sprockets and rotates smoothly and quietly.
Wire confectionery enrobing belts that are not completely free of dried chocolate can cause the belt to jam or break. To avoid this, only engage your enrobing belt motor when it is clean or free of dried chocolate. You can wash your enrobing belt attachment at the end of each enrobing day but should thoroughly dry with compressed air or allow to fully dry prior to reusing. Or instead of washing the complete belt, cover it overnight to lock in heat while the machine is in overnight mode with an included cover or by using a heat lamp or heat blankets. Prior to turning on your enrobing belt, clean the belt with heat and cocoa butter (or heated chocolate) using a brush as necessary.
Enrobing belt users should address uneven workspace temperatures and isolate equipment as necessary, and use a more fluid couverture chocolate as necessary.
WHAT PREVENTATIVE MEASURES CAN I TAKE TO AVOID CRITICAL DOWNTIME?
Stock a spare belt.
Train employees to properly use your chocolate enrobing equipment.
Train employees to properly change or splice a wire mesh enrobing belt.
Turn off your enrobing belt motor at the first onset of loud noise which may indicate that the belt is jamming, and do not restart until the problem has been found and dealt with.
Use the proper tools to fix or replace wire mesh sections of your enrobing belt.
Please watch the attached video or search the internet for other applicable videos, or contact us at TCF Sales for additional help; Ph: 512-201-4443 or toll free 877-777-6982.
512-201-4443